Jubilee Bells
"Jubilee Bells" was formed in the Jubilee Year 2000 to participate in the Parish Liturgy and wider community functions. The Handbell Choir consists of seven members, who meet on a Thursday afternoon in the Parish Centre. We are a non-profit group with no cost to members. Any donations received during concerts are given to charity. New members are always welcome.
For further information on Jubilee Bells:
Contact: Parish Office 021-4344452.
Mid-Summer Concert 2013
The Annual Mid-Summer Concert was held on Friday the 24th of June 2013. All proceeds were in aid of the Cork Simon Community
This year Jubilee Bells were proud to showcase all local artists.
Concert Programme
Polyphonics Barbershop Chorus
Based in Carrigaline the group came to national attention in 2009 and again in 2011 when they won the National Male Chorus Championship. At the moment they are under the direction of Douglas Kelly and have preformed throughout the country and on RTE. As a group they have always been supportive of the Concert in Dennehy's Cross. Their signature piece is "Blue Suede Shoes".
Cantaırí Mhuscraí
Cantaırí Mhuscraí was formed in 1973 by Pilib O'Laoire. A mixed voice choir conducted by Mary O'Brien, it has a wide repetoire with mainly Classical, Irish and popular pieces. They have travelled extensively abroad and are based in Ballincollig Community School.
Jubilee Bells Handbell Choir
Three pieces were performed "Bring Flowers of the Rarest" popularised by the late Canon Sydney MacEwan. Youngsin Ó Sé accompanied them on piano for their second piece "Be Still my Soul" and they concluded with Handel's "Thine be the Glory"
Cantabile Vocal Ensemble
Formed in 2010, a female choir under the leadership of Mary O'Brien. It has performed widely in concerts and choral competitions in Ireland and Wales. One of the pieces sung was "Canaimís Amhráin" from a poem written by a choir member Róısín Kelly, translated into Irish by Aghna Lynch and set to music by Mary O'Brien.
World as One Multicultural Choir
The Choir was formed in 2008 and is part of the Cork Community Music Network. Current director is Joanne Walsh. Cultures represented in the Choir include Afghanistan, Ethiopia, Ireland, Lithuania, Spain, Kenya and Togo. The repertoire is upbeat, modern and joyful.
Robert & David Keating – Classical Guitarists
Robert and avid are CIT Cork School of Music students and are very popular having performed also in 2012. Robert opened with a solo "Classical Gas" by Williams followed by "Pure Imagination" by Bricusse and arranged by himself. Brother David played "Prelude" by Bach and "Primavera Portena" by Piazolla. They finished with a duet "Tango" by Pujol.
Cork School of Dance
This troupe of ten dancers under the direction of Sinead Murphy performed two routines "Mystical Light" and "O Fortuna" from Carmen Birhana, choreographed by Sinead. The routines flowed seamlessly into one another and brought great serenity to the occasion.
Máırín Rúa and Nóra Hayes
Sisters and school girls from the parish, Máırín Rúa and Nóra produced a melodic programme including a duet "Inis Oirr", "Greensleeves" on flute and "Harmony of the Angels" on Harp. Máırín Rúa has performed at earlier concerts and 2013 was Nóra's Debut.
Fen Long – Piano
Aisling McCarthy – Violinist
Catherine McCarthy – Mezzo Soprano
For many years a Cantor in our Senior Church Choir, Mezzo Soprano Catherine McCarthy was delighted to participate in the concert. Accompanied by her daughter Aisling on violin with Fen Long on piano, she sang "Nella fantasia" by Ennio Morricone and "Che faro senza Eurydice" from Orpheus and Eurydice. Aisling, a multi talented prize winner in competition performed "Romance" from the Gadfly by Shostakovich and "Melody, Opus 42" by Tchaikovosky. Aisling has toured abroad with the Irish Youth Orchestra, currently plays with the Cork Symphony Orchetra and recently auditioned for the RTE Concert Orchestra.
Closing Address
Carmel O'Shea thanked all who participated, all who attended and spoke of the importance of recognising the talents and contributions that groups and individuals make. To this end she read a poem loved by the Late Dean Denis O,Connor – his advice to people on the matter.
DO IT NOW
If with pleasure you are viewing
Any work that I am doing,
If you like me or you love me, tell me now.
Don't withhold your approbation
Till the Father makes oration
And I lie with snowy lilies o'er my brow;
For no matter how you shout it,
I won't care much about it;
I won't see how many teardrops you have shed;
If you think some praise is due me
Now's the time to slip it to me,
For I cannot read my tombstone when I'm dead.
More than fame and more than money
Is the comment warm and sunny,
Is the hearty warm approval of a friend.
For it gives to life a savour,
And it makes me stronger, braver,
And what's more it gives me spirit to the end;
If I earn your praise – bestow it,
If you like me, let me know it,
Let the words of encouragement be said;
Do not wait till life is over
And I'm underneath the clover,
For I cannot read my tombstone when I'm dead.
Mid-Summer Concert 2012
The Annual Mid-Summer Concert was held on Friday the 6th of July 2012. All proceeds were in aid of the St. Vincent de Paul Society. This year the Kellogg Community College Choir
from Michigan, U.S.A. and many local artists performed. This is the first International Tour for KCCC and features on
You Tube.
We were honoured by and grateful for the attendance of the Lord Mayor of Cork, John Buttimer.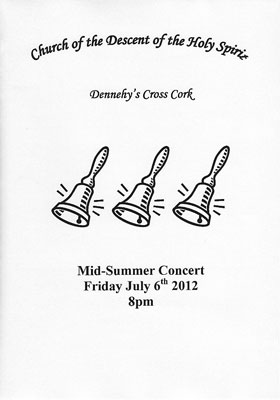 Concert Programme
Congregational Singing led by Phil Giltinan
Kellogg Community College Choir
Coral O'Sullivan – Oboist
"Gabriel's Oboe" by Ennio Morricone
"Pan" by Benjamin Britten
Jubilee Bells Handbell Choir:
"Lord of the Dance" (Music Traditional
"Canon" by J. Pachelbel
Kellogg Community College Choir
Robert & David Keating – Classical Guitarists
(Robert – Solo)
"Rio by Night" by Vincent Lindsey Clarke
"Soledad" by Stefan Oser
"Galop" by Fernando Sor
(Robert & David)
"Tamacun" by Rodrigo y Gabriela
Hugh O'Connor – Boy Soprano
"Pie Jesu" by Andrew Lloyd Webber
Sinéad O' Halloran – Cellist
from Suite No.3 in C major by J. S. Bach
"Prelude"
"Sarabande"
"Bourreés I & II"
Niamh Doyle – Pianist
Organ Recital
Congregational Singing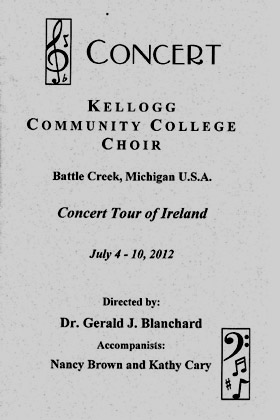 Programme of the Kellogg Community College Choir
Fr. Kieran Twomey PP thanked all those who organized and participated in the Concert. Every individual has some God-given talent and it is their responsibility to develop and share that talent. Fr. Kieran went on to say that "It is abundantly clear that all the performers here tonight have met that challenge".